ADB to Help Unleash Development Potential of PRC's Yunnan Province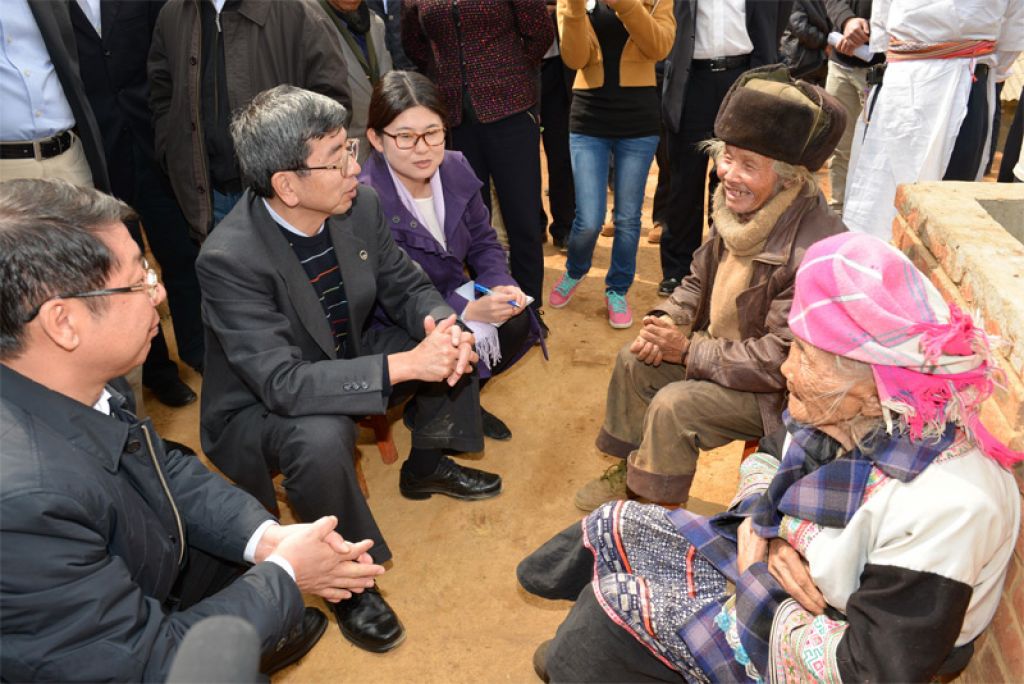 ADB President Takehiko Nakao talking to villagers in Mahuangqing Village in Wuding County, Yunnan Province. First on the right is a woman believed to be over 100 years old from the Miao minority group. Photo: ADB.
KUNMING, PEOPLE'S REPUBLIC OF CHINA (22 March 2014) – Asian Development Bank (ADB) President Takehiko Nakao met with Yunnan Governor Li Jiheng and discussed the province's development challenges and potential during a three-day visit to the People's Republic of China (PRC). During his mission, Mr. Nakao visited two poor villages in northern Yunnan and three ADB-supported projects.
The importance of regional cooperation was highlighted during the visit to the area because of Yunnan's strategic location linking the PRC with South and Southeast Asia.
"I recognize Yunnan's development challenges, having the largest number of poor counties in the PRC. But I also see the province's great potential because of its ethnic, cultural and environmental diversity. It is good that the province is trying to unleash its full potential through regional cooperation. ADB would like to provide its strong support to the province." Mr. Nakao said. "We are particularly keen to turn transport corridors into vibrant economic corridors, taking full advantage of the improved connectivity supported by earlier transport projects."
Yunnan joined the Greater Mekong Subregion (GMS) economic cooperation initiative at its inception in 1992, allowing the province to more fully benefit from borders shared with the Lao People's Democratic Republic (Lao PDR), Myanmar, and Viet Nam. ADB has been active in helping to improve transport connectivity within the province as well as with neighboring provinces of the PRC and other GMS countries, which also include Cambodia, Lao PDR, Myanmar, Thailand, Viet Nam, and the Guangxi Zhuang autonomous region in the PRC.
The three ADB-supported projects Mr. Nakao visited include the Central Yunnan Roads project, which was approved in 2008 and has constructed an expressway connecting Wuding and Kunming cities and improved local roads and passenger transport stations. The Yunnan Chuxiong Urban Environment Improvement project, approved on 21 March, will help enhance living conditions in three cities comprising the central Yunnan city cluster, and is expected to contribute to regional economic integration. The Dali-Lijiang Railway project, completed in 2011, provides an efficient, safe, and affordable railway transport system that is necessary to develop local resources and helps generate job opportunities.
To date, ADB has provided about $1.7 billion in loans and grants to Yunnan province for projects such as the construction and upgrade of expressways and feeder and rural roads, and improvements to water supply infrastructure, power transmission and railways. Yunnan is the second largest recipient of ADB assistance in the PRC.
Last Updated:
28
August
2017