Impact of Cross-border Transport Infrastructure on Trade and Investment in the GMS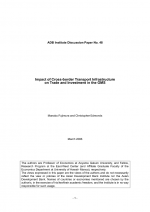 Collaborative infrastructure projects are undertaken in the Greater Mekong Subregion because, in theory, they help to promote greater trade and investment flows among neighboring countries.
This paper tests the impact of cross-border road projects on trade and foreign direct investment, building on the recent "new economic geography" literature. It finds that cross-border roads have a positive impact on trade, although it finds no evidence of any impact on foreign direct investment flows. However, formal barriers to trade as represented by import tariffs do not appear to be a significant influence on trade.
Last Updated:

Sunday

,

8

May

2016