46th Meeting of the GMS Tourism Working Group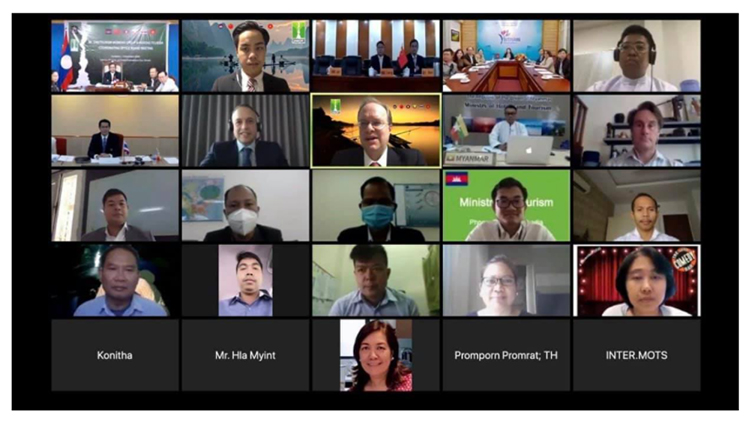 The Government of Lao People's Democratic Republic (PDR) with assistance of the Mekong Tourism Coordinating Office (MTCO) virtually convened the 46th Meeting of the Greater Mekong Subregion (GMS) Tourism Working Group (TWG-46) on 3 December 2020. The meeting was attended by representatives of the National Tourism Organizations (NTOs) of the six GMS countries—Cambodia, the People's Republic of China, Lao PDR, Myanmar, Thailand, and Viet Nam—the MTCO, and the Asian Development Bank (ADB).
The GMS Tourism Working Group provides operational leadership and technical guidance to plan, implement, monitor, and evaluate subregional activities. This meeting (i) provided updates on country situations on the coronavirus disease (COVID-19) and planned tourism recovery initiatives and strategies, (ii) presented MTCO's initiatives and programs, and (iii) reviewed ADB and other development partner support for the tourism sector in the Mekong subregion 
The Chair, Mr. Khom Douangchantha, Director General, Ministry of Information, Culture and Tourism, Lao PDR, looked forward to meeting discussions on creative and innovative solutions to mitigate the impact of COVID-19 outbreak and to boost business and consumer confidence in the GMS tourism industry.
Mr. Alfredo Perdiguero, Director of the Regional Cooperation and Operations Coordination Division, Southeast Asia Department, ADB and head of the ADB delegation, noted in his opening remarks that although COVID-19 continues to negatively impact travel and tourism, the countries' successful efforts to contain the pandemic and the recent promising vaccine trial results inspire optimism to see a faster recovery in 2021. He recalled that regional cooperation helped facilitate successful tourism in the GMS and is critical for its revival. He reiterated ADB's continued support through COVID-19 pandemic response option, and other financing and knowledge services. 
Mr. Jens Thraenhart, Executive Director of the MTCO, reiterated the importance of engaging all stakeholders, particularly local communities as the Working Group plans for a holistic and balanced recovery from the pandemic. He reported that the MTCO has been working closely with all GMS member countries as well as the private sector to monitor and alleviate the impacts of COVID-19 on the tourism sector in the GMS and to advance TWG initiatives.   
Key outcomes of the meeting include the following: 
Country updates from GMS member countries who shared their status of tourism and their response and recovery measures. Initiatives mentioned by the country delegations included

Cambodia: (i) Roadmap on the rehabilitation and promotion of Cambodia's tourism sector (2020-2025); (ii) Masterplans for tourism development in Siem Reap, Kep and Mondulkiri provinces (2020-2035); and (iii) Tourism Development Strategic Plan (2021-2030)  

PRC: (i) tourist flow management; (ii) smart tourism-using smart technology to trace and monitor tourists, using cloud and VR technology to livestream the tourist attractions, exhibitions, museums; (iii) financial and monetary measures to accelerate investments on tourism infrastructure projects, tax cuts, financial loans, safeguard rights of tourist guides and honing of skills; and (iv) travel fairs 

Lao PDR: (i) economic recovery measures; (ii) rebuilding the trust of domestic and foreign tourists; (iii) restoring the attractions of tourist destinations; and (iv) boost domestic tourism. 

Myanmar: (i) development of the Myanmar Tourism Strategic Recovery Roadmap 2021-2025 with the assistance of Luxembourg; (ii) development of Tourism National Guidelines for COVID-19 Safe Services. 

Thailand: Measures to (i) build confidence among tourists and (ii) boost tourism in Thailand. To build confidence, measures include the Clean Together platform; White Tourism campaign to enhance service quality of tourism personnel; and  Safety Zone project to create models of safe tourism destinations. To boost tourism in Thailand, measures include: We Travel Together campaign to boost domestic tourism among Thai citizens, and the Special Tourism Visa issued to foreigners who meet certain criteria to begin opening up Thailand tourism to international tourists. 

Viet Nam: Tourism industry response include (i) domestic tourism recovery campaigns, such as "Vietnamese people travel in Viet Nam" and "Vietnam-Safe and Attractive Destination"; "Vietnam Safe Travel" app, video clip contest themed "Vietnam Now" and photo contest themed "Explore Vietnam"; and (ii) international tourism stimulus program, such as promotional campaigns like online marketing with hashtag #MyVietnam on social media, broadcasted new video clip "Why not Vietnam" on CNN, Virtual Vietnam page and Green Travel page in vietnam.travel website.  The Vietnam National Administration of Tourism (VNAT) continues to implement domestic stimulus programs and enhance the application of digital technology in promoting Viet Nam as a safe and attractive destination. 

MTCO updates on various GMS tourism initiatives and programs including: 

GMS Tourism Performance Scorecard 

Coronavirus resource page that the MTCO continues to update and maintain

Travel Situation Infographics- nine infographics have been published and are popular in social media 

Mekong Tourism Advisory Group (MeTAG)- now with over 90 members of travel professionals and with wide array of expertise from 6 member countries and international travel and tourism organizations  

MTCO-NTOs virtual meetings 

Work with travel media- partnership with Travel Mole to communicate and articulate the latest information in GMS tourism 

Active participation in webinars to keep the Mekong region and Mekong tourism on top of mind of travel trade and other organizations  

Sustainable and smart tourism development in the Mekong Region- providing tourism expert support to Mekong Institute which administered the Mekong- Republic of Korea Cooperation Fund for this program 

UNWTO training program on "Capacity Building for Sustainable Tourism and Reviving Tourism" participated in by GMS member countries' officials 

Participation in World Tourism Day 2020 

Updates on various Mekong Tourism initiatives under the public-private sector partnership framework, Destination Mekong, including the First Destination Mekong Summit; Experience Mekong Collection; Mekong Heroes; Mekong Innovative Start-up in Tourism (MIST); Mekong Memories; Mekong Deals; Promoting Mekong Region to China; and Mekong Tourism Forum
Updates on how ADB is supporting tourism in the Mekong region. Ongoing ADB support includes two regional investment projects that are developing climate resilient transport infrastructure, solid waste and wastewater management facilities, and developing urban greenspace in Cambodia, Lao PDR, Viet Nam. ADB assistance is also being used to develop regional tourism standards and implement newly introduced safety and hygiene standards, support training for tourism SMEs, and prepare tourism recovery policy briefs and communications plans. ADB will organize a hackathon in March 2021 that aims to help restore confidence to travel by using innovative digital solutions. New tourism investment projects are being prepared for Cambodia and the PRC, for approval in 2021.
Read the TWG-46 Summary of Proceedings at the TWG page on the MTCO website.