Economic Corridors in the Greater Mekong Subregion
---
Economic corridors are areas, usually along major roadways, that host a variety of economic and social activities. This includes factories, tourism, trade, environmental protection activities and other aspects of the economy and social development of an area.
An economic corridor is much more complex than a mere road connecting two cities. It involves not only the development of infrastructure but also the crafting of laws and regulations that make it easier to do business, access markets, and conduct other activities that support trade and development in a comprehensive manner.
Economic corridors bring a wide range of benefits, far beyond what any single project can deliver. There are three main economic corridors in the Greater Mekong Subregion (GMS): the (i) North-South Economic Corridor (NSEC); (ii) East-West Economic Corridor (EWEC); and Southern Economic Corridor (SEC). Plans are underway to expand these corridors, and strengthen links between GMS nations' capital cities.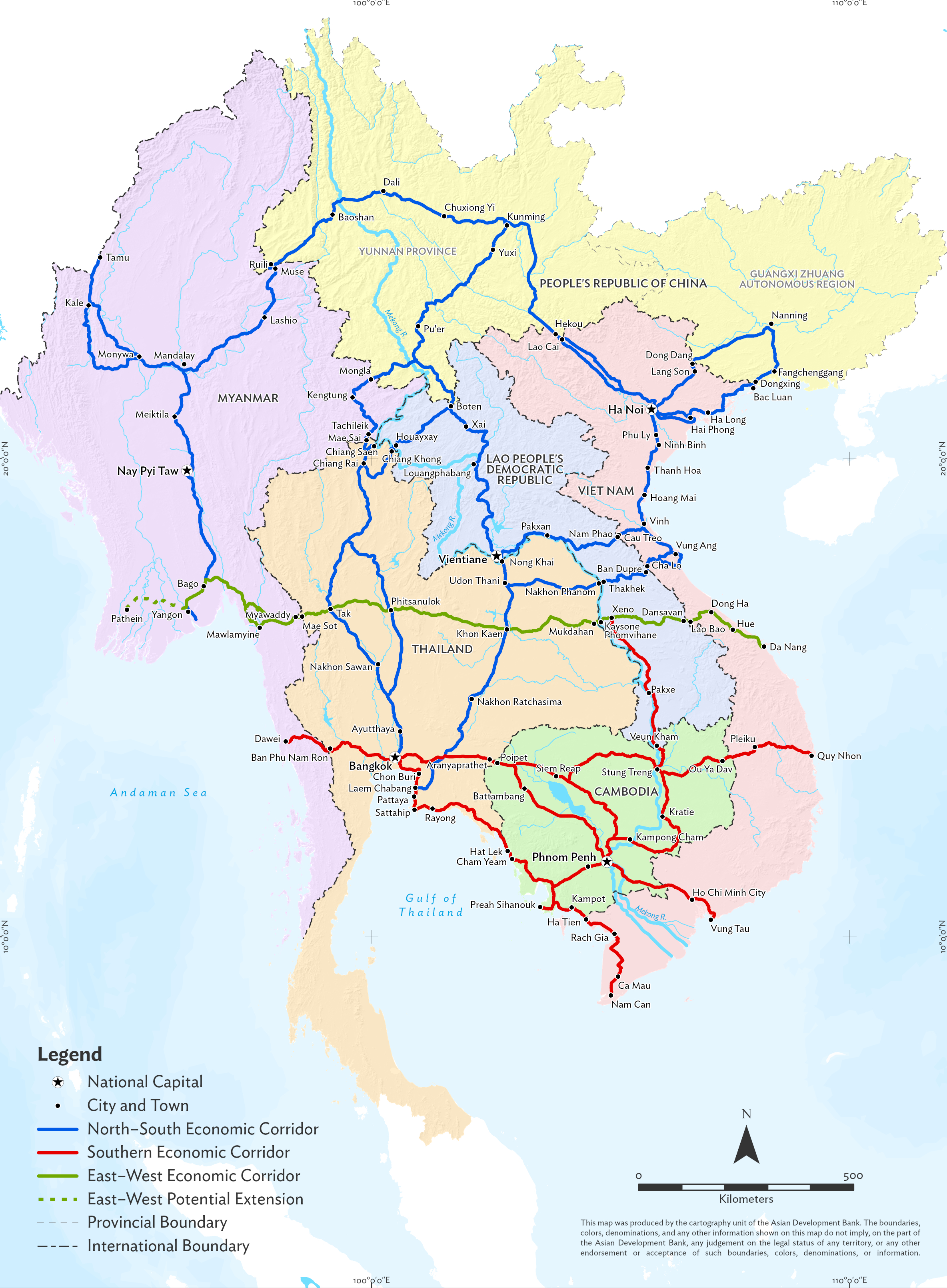 THREE MAIN GMS ECONOMIC CORRIDORS
The North-South Economic Corridor (NSEC)
The corridor plays a critical role in providing Yunnan Province and northern Lao PDR access to important sea ports. This opens access to important markets, given the existing road network from Singapore via Malaysia to Chiang Rai, and from Kunming to Beijing.
The North-South Economic Corridor involves three routes along the north to south axis of the GMS geography:
The Western Subcorridor: Kunming (PRC) – Chiang Rai (Thailand) – Bangkok (Thailand) via LAO PDR or Myanmar

The Central Subcorridor: Kunming (PRC) – Ha Noi (Viet Nam) – Hai Phong (Viet Nam) which connects to the existing Highway No. 1 running from the northern to the southern part of Viet Nam

The Eastern Subcorridor: Nanning (PRC) – Ha Noi (Viet Nam) via the Youyi Pass or Fangchenggang (PRC) – Dongxing (PRC) – Mong Cai (Viet Nam) route.
GMS Ministers have endorsed the following extensions and/or realignment for this corridor based on a study by the Asian Development Bank .
Include the Kunming–Dali–Ruili–Muse–Mandalay–Nay Pyi Taw–Yangon route, which is the main trade route between the PRC and Myanmar.

Add an extension to the Kunming–Dali–Ruili–Muse–Mandalay–Nay Pyi Taw–Yangon route to link Mandalay to Tamu at the border with India, using the Mandalay–Kalewa–Tamu route via Monywa or Shwebo

Add the Boten–Oudomxay–Luang Prabang–Vang Vieng–Vientiane–Nong Khai–Udon Thani–Nakhon Ratchasima–Laem Chabang route. This will incorporate Vientiane, the capital of the Lao PDR, into the GMS corridor network.

Include a Bangkok and Hanoi link, using the Bangkok–Nakhon Ratchasima–Udon Thani–Sakon Nakhon–Nakhon Phanom–Thakhek–Na Phao–Chalo (via Route No. 12)–Vung Anh–Vinh–Hanoi route.

Include a link between Vientiane and Hanoi using the Paksan–Nam Phao–Cau Treo–Vinh route with an extension to Vung Anh.
The East-West Economic Corridor (EWEC)
Not long ago, transporting goods through the Lao People's Democratic Republic to Viet Nam was a long slog over cracked asphalt. Trucks formed a bumper-to-bumper caravan, dodging potholes all the way. Hard rains would turn parts of the route into a muddy creek.
Today, the trip is a few hours and traders are making the most of it. This once-rugged path is now a key passageway along the ADB-supported East-West Corridor, which runs from Da Nang Port in Viet Nam, through Lao PDR, Thailand, and to the Mawlamyine Port in Myanmar. It extends 1,320 kilometers, intersecting the North-South Economic Corridor at the provinces of Tak and Phitsanulok in Thailand.
The East-West Economic Corridor links important commercial areas:
Mawlamyine-Myawaddy in Myanmar;

Mae Sot-Phitsanulok-Khon Kaen-Kalasin-Mukdahan in Thailand;

Savannakhet-Dansavanh in Lao PDR; and

Lao Bao-Hue-Dong Ha-Da Nang in Viet Nam.
GMS Ministers have endorsed the recommendation of an Asian Development Bank study to extend the western end of EWEC to Yangon–Thilawa in Myanmar, using the Myawaddy–Kawkareik–Eindu–Hpa-An–Thaton–Kyaikto–Payagi–Bago–Yangon–Thilawa route, with a possible extension to Pathein.
The Southern Economic Corridor (SEC)
This vital passageway links Cambodia with six provinces in Thailand including Bangkok, four regions in Viet Nam including Ho Chi Minh City, and six provinces in Lao People's Democratic Republic (Lao PDR). It also reaches to Dawei in Myanmar.
It covers the development of the following subcorridors:
The Central Subcorridor: Bangkok-Phnom Penh-Ho Chi Minh City-Vung Tau;

The Northern Subcorridor: Bangkok-Siem Reap-Stung Treng-Rattanakiri-O Yadov-Pleiku-Quy Nhon;

The Southern Coastal Subcorridor: Bangkok-Trat-Koh Kong-Kampot-Ha Tien-Ca Mau City-Nam Can; and

The Intercorridor Link: Sihanoukville-Phnom Penh-Kratie-Stung Treng-Dong Kralor (Tra Pang Kriel)-Pakse-Savannakhet, which links the three SEC subcorridors with the East-West Economic Corridor.
Learn more:
What is the Greater Mekong Subregion Program?
The Greater Mekong Subregion Economic Cooperation Program Strategic Framework 2030
Explainer: What is an Economic Corridor?
Review of Configuration of Greater Mekong Subregion Economic Corridors
Project Information: Development Study of GMS Economic Corridors