9th Meeting of GMS Working Group on Human Resource Development (WGHRD-9)
Conference Proceedings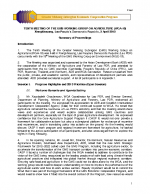 Download the PDF file (75.26 KB).
The 9th Meeting of the Greater Mekong Subregion (GMS) Working Group on Human Resource Development (WGHRD-9) was held in Guilin, Guangxi Zhuang Autonomous Region, People's Republic of China, on 20-21 May 2009. It was organized by the Government of the People's Republic of China and the Asian Development Bank (ADB). Government officials from the six GMS countries, representatives of bilateral, multilateral, intergovernmental organizations and regional academic and research institutions, and ADB staff attended the meeting.
The meeting reviewed and endorsed a draft GMS Human Resource Development Strategic Framework and Action Plan (SFAP) for strengthening subregional cooperation in education, labor and migration, health, and social development covering the period 2009-2012.
The strategic priorities in this sector will focus on regional issues that have scope for regional cooperation and require regional solutions. The goal is to foster sustainable regional human resource development that will contribute to increased subregional competitiveness, connectivity and community.
Support will be given to HRD initiatives that directly facilitate subregional cooperation and integration (e.g., labor migration management, mutual recognition of educational skills and training qualifications, and address cross-border HRD issues directly linked to GMS integration (e.g., cross-border transmission of communicable diseases, human trafficking). Five strategic thrusts have been outlined in the SFAP:
(i) Promoting regional cooperation in education and skills development;
(ii) Facilitating safe labor migration within the subregion;
(iii) Supporting communicable disease control;
(iv) Enhancing regional cooperation for social development; and
(v) Strengthening regional institutional links and mechanisms for regional cooperation.
The SFAP was subsequently endorsed at the 15th GMS Ministerial Conference held in Cha-am, Petchburi Province, Thailand on 17-19 June 2009.
Last Updated:

Monday

,

1

June

2009