Asian Development Bank and the Lao People's Democratic Republic: Fact Sheet
Brochures and Flyers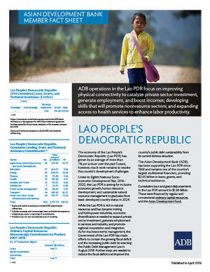 The Asian Development Bank's​ operations in the Lao People's Democratic Republic focus on improving physical connectivity to catalyze private sector investment, generate employment, and boost incomes; developing skills that will promote nonresource sectors; and expanding access to health services to enhance labor productivity.
ADB has been supporting the Lao People's Democratic Republic (Lao PDR) since 1968 and remains one of the country's largest multilateral financiers, providing $2.65 billion in loans, grants, and technical assistance.
ADB's country partnership strategy (CPS), 2017–2020 for the Lao PDR blends knowledge work with financing to help the government achieve its desired development outcomes. ADB investments also help ensure sustainable management of natural resources and bolster climate resilience, while gender equality and effective governance remain crosscutting themes.
Updated yearly, this ADB Fact Sheet provides social and economic indicators on Lao PDR as well as concise information on ADB's operations in the country and contact information.
Source: ADB.org