Asian Development Bank and the People's Republic of China: Fact Sheet
Brochures and Flyers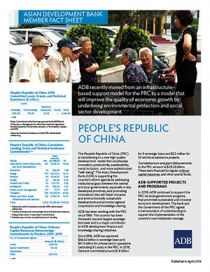 The Asian Development Bank recently moved from an infrastructure-based support model for the People's Republic of China to a model that will improve the quality of economic growth by underlining environmental protection and social sector development.
Since 1986, ADB has approved $36.62 billion in sovereign loans and $4.13 billion for private sector operations (excluding B Loans) in the People's Republic of China (PRC). In 2018, the bank committed around $1.8 billion for 9 sovereign loans and $22 million for 36 technical assistance projects.
In 2018, ADB continued to support the PRC via local government programs that promoted sustainable and inclusive economic development. The bank and the Government of the PRC signed a memorandum of understanding to support the implementation of the country's rural vitalization strategy. ADB has also started preparing a new strategy to cover 2021–2025, which will align closely with the PRC's 14th Five-Year Plan and the priorities of ADB's Strategy 2030.
Updated yearly, this ADB Fact Sheet provides social and economic indicators on the PRC as well as concise information on ADB's operations in the country and contact information.
Source: ADB.org