Asian Development Bank and Thailand: Fact Sheet
Brochures and Flyers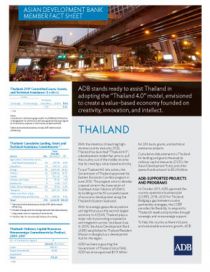 The Asian Development Bank (ADB) stands ready to assist Thailand in adopting the "Thailand 4.0" model, envisioned to create a value-based economy founded on creativity, innovation, and intellect.
ADB has been supporting the Government of Thailand since 1966. It has since approved $7.01 billion for 283 loans, grants, and technical assistance projects.
The ADB country operations business plan, 2018–2020 for Thailand bridges a gap between country partnership strategies, and provides the flexibility to respond to Thailand's needs and priorities through sovereign and nonsovereign support. ADB stands ready to assist Thailand in adopting Thailand 4.0 and promoting the Eastern Economic Corridor. ADB will also continue to support Thailand's Infrastructure Development Plan, through both financial and knowledge support.
Updated yearly, this ADB Fact Sheet provides social and economic indicators on Thailand as well as concise information on ADB's operations in the country and contact information.
Source: ADB.org
Last Updated:

Tuesday

,

24

April

2018