Fourth Meeting of the Trade Facilitation Working Group: Summary of Proceedings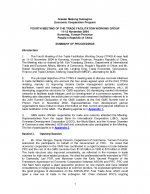 The Fourth Meeting of the Trade Facilitation Working Group (TFWG-4) was held on 11-12 November 2004 in Kunming, Yunnan Province, People's Republic of China. The Meeting was co-chaired by Mr. Sun Yuanjiang, Director, Department of International Trade and Economic Affairs, Ministry of Commerce, People's Republic of China; and Mr. Robert Boumphrey Director, and Ms. Lingling Ding, Trade Economist, Governance, Finance and Trade Division, Mekong Department (MKGF), alternating for ADB.
The principal objective of the TFWG-4 meeting was to discuss concrete initiatives in trade facilitation taking into account the four areas agreed upon at the third TFWG meeting, namely: (i) improving modern border management systems (customs facilitation, transit and transport regimes, multimodal transport operations, etc.); (ii) developing supportive structures for GMS exporters; (iii) developing market information networks to facilitate trade linkages; and (iv) development of e.commerce systems. The Meeting also discussed the action plan on trade and investment facilitation referred to in the Joint Summit Declaration of the GMS Leaders at the first GMS Summit held in Phnom Penh in November 2002. Representatives from development partner organizations were invited to share information on their current and planned initiatives in trade facilitation in the GMS.
Last Updated:

Monday

,

1

November

2004