ADB, GEAPP Announce $35 Million for Energy Access and Transition for South and Southeast Asia
---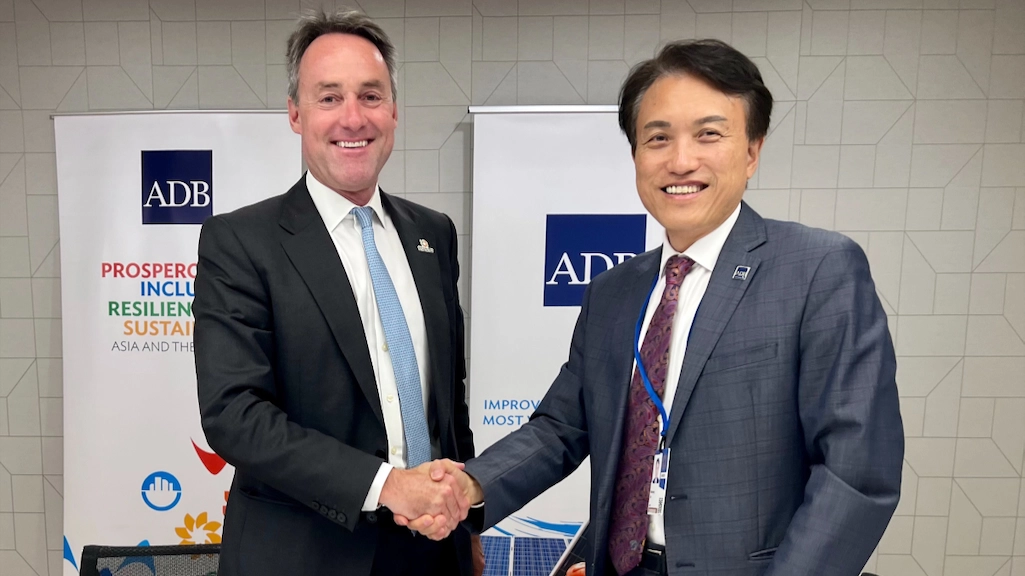 WASHINGTON, DC (14 April 2023) — The Asian Development Bank (ADB) today joined the Global Energy Alliance for People and Planet (GEAPP) to announce $35 million to help boost energy access and the energy transition in South and Southeast Asia.
The contribution from GEAPP was formalized at a signing ceremony in Washington, DC, by ADB Managing Director General Woochong Um, GEAPP Chief Executive Officer Simon Harford, and GEAPP Chief Partnerships Officer Sundaa Bridgett-Jones.
The $35 million will be managed by ADB through the forthcoming GEAPP Energy Access and Transition Trust Fund (GEATTF). The funds will improve energy access and support energy transition activities in Bangladesh, India, Indonesia, Pakistan, and Viet Nam.
"We welcome this support from GEAPP which will help ADB in two of our most important priorities as Asia and the Pacific's climate bank," said Mr. Um. "First, expanding clean energy for the 350 million people in our region who have either limited or no access to electricity. And second, catalyzing the transition from coal and other fossil fuels toward clean, affordable, and reliable energy sources."
"There are great opportunities to open up access to energy while addressing the challenge of climate change, yet developing countries attracted only 15% of global renewable energy investments in 2022," said Mr. Harford. "We need to do better, act bolder, knowing we will only meet critical climate goals through collaboration and meaningful capital commitments. GEAPP's partnership with ADB is a great example of this response—galvanizing funding to encourage the use of clean energy in the region, underpinned by practical innovation, scalable solutions, and knowledge sharing." 
GEAPP was launched by The Rockefeller Foundation at COP26 in 2021 with the aim of promoting universal energy access and meeting critical climate goals. In addition to The Rockefeller Foundation, its initial funders are the IKEA Foundation and the Bezos Earth Fund. At COP26, ADB and The Rockefeller Foundation signed a memorandum of understanding for up to $100 million to support the bank's work to combat climate change, accelerate the transition to clean energy, and end energy poverty.
ADB is committed to achieving a prosperous, inclusive, resilient, and sustainable Asia and the Pacific, while sustaining its efforts to eradicate extreme poverty. Established in 1966, it is owned by 68 members—49 from the region.
This was first uploaded on the ADB website.
Last Updated: 19 April 2023