GMS Trade Project in Lao PDR Boosts Knowledge in Plant Health
---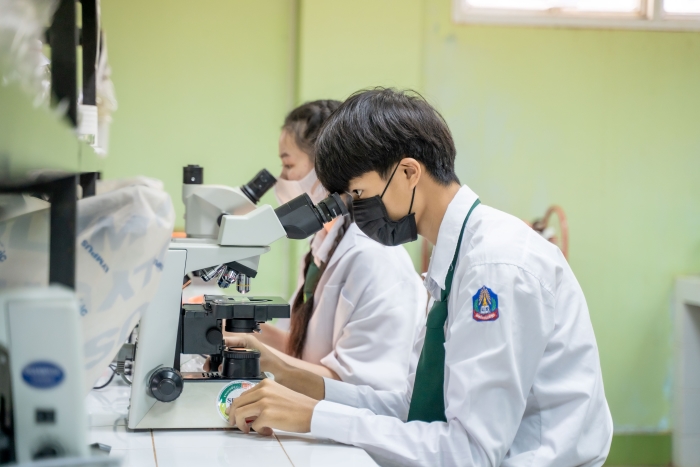 Plant Sciences Degree at the Faculty of Agriculture. Students at the National University of Lao PDR use microscopes to study plant pests. ADB is helping the Lao PDR, through the Improved Sanitary and Phytosanitary Handling in Greater Mekong Subregion Trade Project, to supply skilled human resources who can help ensure a safe, healthy, and profitable product that benefits the Lao people and the Lao economy.
It is important for Lao PDR to have their own experts that know how to survey, monitor, understand and protect their food system. Having specialists that understand the context in which Lao plants can be grown and protected helps ensure that crops will be grown in harmony with local environments and communities. The ADB-financed Greater Mekong Subregion trade facilitation project in Lao PDR supports an initiative to build the country's capacity in sanitary and phytosanitary (SPS) handling by making quality education in this sector available to Lao students. Support given by the project includes helping produce plant health experts who are able to monitor the country's plants. Graduates have gone on to pass their knowledge to local Lao farmers all over the country and teach Lao PDR's next generation the best methods for the safe growing, processing, and distribution of food. 
SPS-GMS Trade Project Support for Lao PDR 
The Plant Health Science program of the National University of Lao PDR (NUOL) Faculty of Agriculture is Lao PDR's center for training and education for tomorrow's experts in plant growth, safety, and practices in farming crops. Since 2013, the SPS Handling in GMS Trade Project supported the development of a sanitary and phytosanitary  program at the Faculty of Agriculture. The project financed new facilities, including building classrooms and laboratories in 2015; boosted human capital by providing scholarships to the faculty staff and funding international experts to lead the development of new academic curricula on SPS; and purchasing associated teaching materials and equipment. In 2015, the Bachelor of Science (BSc) degree in Plant Protection, a 4-year degree program, was successfully integrated into the University study program. This year alone, 40 new students have enrolled in the program, with 19 of the enrollees being women.  
BSc Degree in Plant Protection 
The BSc degree in Plant Protection equips students with the know-how to grow plants without the impediment of pests, infections, and weeds. They learn about the wider context in which plants are grown, including the social and economic implications of plant growth and disease among the communities which raise them. Plant Science education also emphasizes mitigating the impacts of climate change on crops—utilizing the best possible diagnostic systems with the help of technology to forecast and effectively respond to tomorrow's threats. 
Three laboratories, constructed through project support, supplement students' training. Using contemporary microbiology equipment, students gain hands-on experience on every stage of plant growth, from testing water and soil to understanding plants' relationships with pests and pesticides.  
Furthermore, since Lao PDR is diverse ethnically and geographically, farm visits are crucial to expose students to a variety of plant-growth settings. Students are taken on several plant protection field visits each academic term where they learn to survey and sample crops in real farm settings.  
These various educational support extended to students, as well as faculty, have prepared graduates from different parts of Lao PDR. Many have returned to their hometowns to help improve food health in their own specific regional and cultural contexts. 
Post-graduate Support 
Support for students extend beyond graduation. Graduates have been placed as interns in several organizations, including in government ministries. Post-graduation surveys conducted among program alumni have helped the faculty understand the how their teachings are applied, and these in turn aid in tailoring future curricula to real-world needs. Advanced students have also gone on to study for Masters  of Science and Ph.D. in Plant Protection. Mr. Bounsanong Chouangthavy, a graduate in 2017, went on to study MSc in Entomology at Bangkok's Kasetsart University, then took an internship at the Institute of Ecology and Environmental Sciences in Paris. He returned to the NUOL Faculty of Agriculture and is now working as a full-time lecturer where he publishes extensively on sustainable farming methods. His study includes the biodiversity of beetle species in Lao PDR, and the population's attitude toward farming insects as a sustainable food source. 
For faculty members, scholarship programs are available to increase their skills and improve their teaching. Furthermore, both students and faculty members are given English language skills training to enable them to remain competitive with developments in their field, such as contributing to international publications and keeping up to date with new technology systems. It also enables them to pursue further graduate education abroad. Someday, with the project's continued support, the faculty hopes to offer its own doctorate (Ph.D.) programs. 
Source
Ministry of Agriculture and Forestry, Lao PDR. 2022. Trade Facilitation: Improved Sanitary and Phytosanitary Handling in Greater Mekong Subregion Trade Project − Completion Report; Ministry of Education and Sports, Lao PDR. 2022, Plant Health Science Department, Faculty of Agriculture. 
Last Updated: 5 December 2022