Myanmar Highlights Job Creation Potential of New Special Economic Zone
---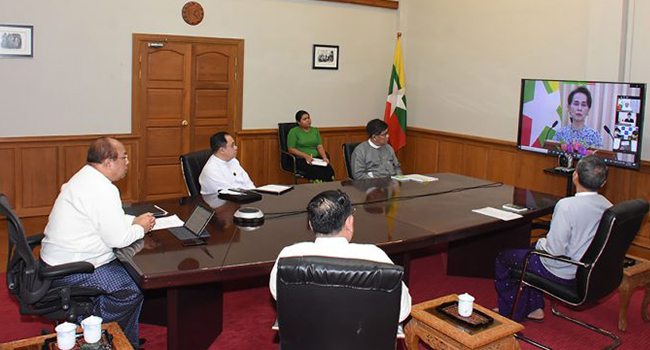 Myanmar State Counselor Daw Aung San Suu Kyi makes a keynote address at the virtual Myanmar-Japan Forum via a video clip on 29 July 2020. Photo: MNA via GNLM
The Myanmar Government unveiled plans to develop a bigger and better connected special economic zone (SEZ) located in Mon State at a virtual Myanmar-Japan Investment Dialogue held on 29 July 2020. The strategically located SEZ will connect both the Indian Ocean and Pacific Ocean, and the Thilawa SEZ in Myanmar to Viet Nam's Da Nang SEZ via the Greater Mekong Subregion's East-West Economic Corridor. Plans for the new SEZ also include the construction of deep-sea port facilities. 
In her opening remarks, State Counselor Daw Aung San Suu Kyi highlighted that quality job creation remains at the heart of Myanmar's Sustainable Development Plan. She said that meaningful growth and quality job creation will not be achieved without continued quality investment that creates quality jobs that pay well and offer security.
Mon State is home to a large number of migrant workers who have returned to Myanmar due to the coronavirus disease (COVID-19) pandemic. 
U Set Aung, Deputy Minister for Planning, Finance and Industry and Chair of Thilawa SEZ, likewise championed the job creation potential of new SEZs across a range of industries, such as manufacturing, logistics, real estate and food processing. 
An Asian Development Bank (ADB) research released in August 2020 forecasts remittances in Southeast Asia to decline by $6.2 billion (19.7%). ADB  recommends governments in the region extend temporary social services to assist migrants; provide income support to poor remittance-recipient families; and design health, labor, and skills policies to help migrants return to their jobs, or be employed in their home countries.
Last Updated: 2 September 2020