Water accounting in the GMS - Policy implications for water, food and energy security in a changing climate
Event
---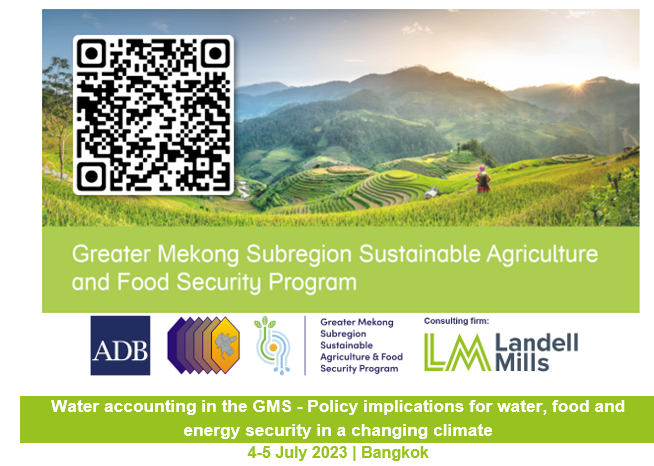 In the Greater Mekong Subregion (GMS) water resources form the basis of agrarian prosperity and economic development. However, increasing water demand due to population growth, rapid industrialisation and urbanisation, as well as a changing climate, are undermining those water resources. Competition is emerging in "hotspots", where demand is highly concentrated and water resources are either not locally available or are financially and technically challenging to augment. In the GMS, countries such as Vietnam and Thailand, are already experiencing water stress, systematically and under conditions of increasing frequency and severity of drought.
Concurrently, all countries in the GMS face growing and severe challenges with degrading water quality, which in turn limits water availability for human use and further degrades the natural environment. Water quality is declining due to diffuse pollution from cropping (agrochemicals, nitrogen and phosphate fertilisers), increasing volumes of untreated wastes from human settlements, livestock centres and industry – often agricultural processing.
Water accounting can inform many day-to-day water management needs. Nevertheless, many national governments remain unaware of the potential benefits of water accounting and wider implementation has been slowed by limited familiarity, low capacity, faint high-level support and consequent lack of funding. Countries not yet facing severe water scarcity, such as those in the GMS, have an opportunity to establish frameworks for water sharing and management before over-allocation occurs and climate change amplifies scarcity issues, through the adoption of water accounting, safeguarding environmental flows, and development of fair and transparent formal water allocation processes.
FAO and ADB, under the Greater Mekong Subregion Sustainable Agriculture and Food Security Program – TA9916 (SAFSP), held a policy dialogue on water accounting in the GMS on 4 July 2023 in Bangkok, Thailand. The objectives of the policy dialogue were:
to assess the importance given to the use of water accounting for water management in national water policies of GMS countries;
to examine the evolution of water accounting approaches in the GMS and assess the contribution of water accounting approaches to decision-making on sectoral allocation of water resources to address water-food-energy trade-offs.
View the event agenda and presentations
Last Updated: 10 July 2023