Join the Dialogue: GMS Working Group on Agriculture Discusses Post-Pandemic Food Security Response and Recovery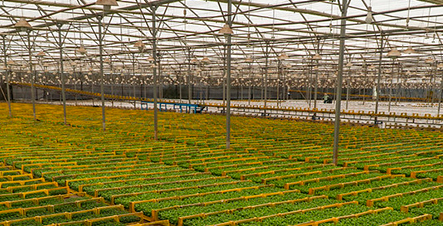 The Greater Mekong Subregion (GMS) Working Group on Agriculture will present post-COVID-19 response and recovery efforts in agriculture on 25 June at 1:30-4:30 p.m. (GMT+7) via Microsoft Teams. Priorities for COVID-19 recovery support by the Asian Development Bank (ADB) in areas such as digital technologies for green agribusiness supply chain management, and livestock health and value chains will be discussed. 
The session will be co-chaired by Jiangfeng Zhang, Director, Environment, Natural Resources and Agriculture Division, Southeast Asia Department, ADB, and Thanda Kyi, Deputy Director General, Ministry of Agriculture, Livestock and Irrigation, Myanmar.
How to join: Click on this Microsoft Teams link. Choose web app. Enter the Conference ID: 386 481 503# when prompted.
Dialogue on Priorities for Post-Pandemic Food Security Response and Recovery in the GMS of the Working Group on Agriculture
The Asian Development Bank (ADB) convened on 25 June 2020 a virtual dialogue on Greater Mekong Subregion (GMS) Working Group on Agriculture (WGA) under the theme of "Priorities for Post-Pandemic Food Security Response and Recovery". The meeting was attended by about 80 participants, including representatives from 6 GMS countries, namely: Cambodia, People's Republic of China, Myanmar, Lao People's Democratic Republic, Viet Nam, and Thailand; international organizations, relevant stakeholders, international and national non-governmental organizations (NGOs), and research institutions. The objectives of the virtual dialogue were to (i) assess the progress of GMS countries' response to COVID-19 including challenges and opportunities in food security and agriculture production; and (ii) discuss COVID-19 impact on development, issues related to livestock and cross-border trade, role played by digital agriculture, building resilient agriculture and livestock systems, and a way forward by the national government in prioritizing their national systems with strong policy response and resilient recovery measures.
In this important dialogue, GMS officials presented on their respective countries' COVID-19 responses and perspectives, especially on agriculture sector, as well as short, medium and long-term measures. Next, the leading experts presented on digitization of agriculture and livestock vulnerabilities to COVID-19, followed by discussions on sectoral and subregional level solutions on addressing COVID-19 post-pandemic scenarios. Lastly, Q&A session was held which allowed clarifications on all sessions, followed by concluding remarks.
Overall, the GMS-WGE dialogue has been highly successful and productive in terms of knowledge sharing and resulted to a formulation of practical measures for post-pandemic food security response and recovery. There is a need to take urgent actions to mitigate the negative effects in the GMS, where protecting agricultural production is key to ensuring food security and people's livelihoods. Other countries' experiences in Asia could offer some suggestions to cope with these challenges.