Lao PDR's Deputy Minister of Health Urges Long-term Commitment to Improve Child Nutrition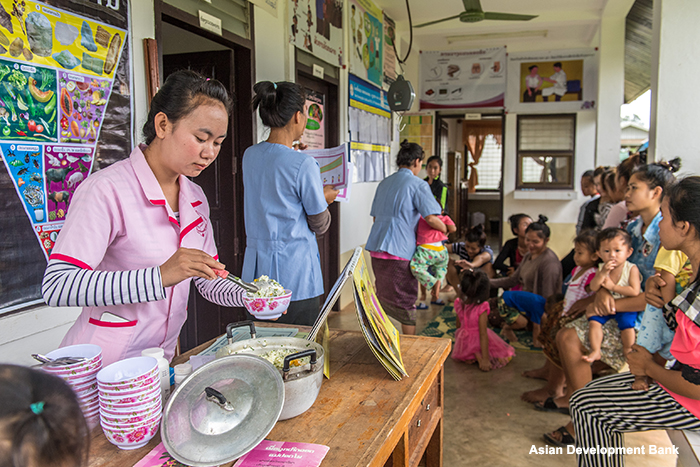 Lao PDR's public health program helped improve people's health and enabled health workers to improve their delivery of services. Photo credit: Ariel Javellana/ ADB
Dr. Phouthone Muongpak, Deputy Minister of Health of the Lao People's Democratic Republic (PDR) underscored the importance of considering health indicators, in particular child nutrition, when it comes to investments in health. Reducing malnutrition continues to be a key challenge in Lao PDR, one that requires political, financial, and collaborative efforts from all sectors and levels, according to Dr. Muongpak.
The Deputy Minister of Health spoke at the ASEAN High-Level Meeting on Human Capital Development, held on 9 September 2019 in Bangkok, Thailand. The Meeting discussed the progress and challenges of translating the ASEAN Leaders' Declaration on Ending All Forms of Malnutrition into action.
Lao PDR needs long term financial commitment, continuous technical support based on new findings, and through learning from other countries to ensure sustained improvement in health, underscored Dr. Muongpak.
By focusing on improving nutrition and through initiatives such as the National Nutrition Strategy and Plan of Action, the country works toward achieving Sustainable Development Goals 2 – End hunger, achieve food security and improve nutrition and promote sustainable agriculture. A Lao PDR Social Indicator Survey conducted in 2011-2012 found that growth of almost one in two children in the country was stunted. Stunting rate in 2011 was at 44%. In 2017, rates of stunting dropped nationwide to 33%. However, improvement is uneven, with the lowest incidence of stunting in Vientiane at 13.8% and highest in Phongsaly at 54%.
The Deputy Minister of Health noted that while the country seems headed in the right direction, a lot still needs to be done to change people's behaviors and way of life. Read more
Last Updated:
10
October
2019