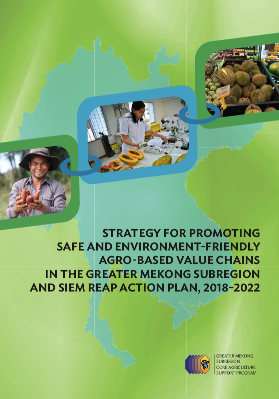 The Agriculture Ministers of the Greater Mekong Subregion has endorsed a strategy to promote safe and environment-friendly agriculture products, and a plan to strengthen value chain integration involving smallholder farmers, rural women, as well as small and medium-sized agro-enterprises. The 2nd Agriculture Ministers' Meeting was held in Siem Reap, Cambodia on 6-8 September 2017.
The Greater Mekong Subregion has a great opportunity to be a major supplier of safe and environment-friendly agriculture products. The GMS economies are growing rapidly, and their population of over 330 million is becoming larger, richer, and more urbanized. Increasingly, GMS consumers look for food characteristics such as safety, healthiness, and environment-friendliness. GMS farmers generate huge surplus of agrifood products, and agribusiness companies are more sophisticated and better able to develop regional and global reach. Agricultural and food trade is growing rapidly. Trade integration is accelerating thanks to policy initiatives and development of transportation corridors and logistics systems. The improved infrastructure and the opportunity to move further along the value-added path are great incentives for the increasing flow of foreign direct investment.
The subregion is also strategically located next to the Chinese market, the Indian subcontinent, and the major transport corridors linking the Association of Southeast Asian Nations (ASEAN) to Central Asia and South Asia, in addition to the Pacific Ocean and the Indian Ocean. The continuity of its landmass, the rapid development of its economic corridors, and the diversity of its agroecological environment make it uniquely placed within ASEAN to be a leader in agrifood trade.