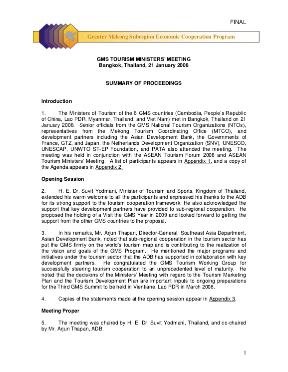 The Ministers of Tourism of the 6 GMS countries (Cambodia, People's Republic of China, Lao PDR, Myanmar, Thailand, and Viet Nam) met in Bangkok, Thailand on 21 January 2008.
Senior officials from the GMS National Tourism Organizations (NTOs), representatives from the Mekong Tourism Coordinating Office (MTCO), and development partners including the Asian Development Bank, the Governments of France, GTZ, and Japan, the Netherlands Development Organization (SNV), UNESCO, UNESCAP, UNWTO ST-EP Foundation, and PATA also attended the meeting.
The meeting was held in conjunction with the ASEAN Tourism Forum 2008 and ASEAN Tourism Ministers' Meeting.
Last Updated:

Friday

,

3

March

2017