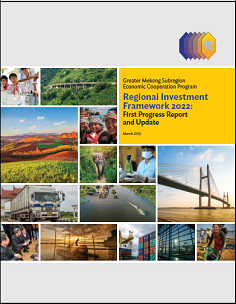 The Regional Investment Framework 2022 is the medium-term pipeline of priority projects in the Greater Mekong Subregion (GMS). It is a consolidation and expansion of the earlier Regional Investment Framework 2013–2022 and the Revised Regional Investment Framework Implementation Plan 2014–2020. It continues to operationalize the strategic thrusts and priorities of the GMS Program under the GMS Strategic Framework 2012–2022 and the Hanoi Action Plan 2018–2022, which reviewed and refined these strategies.
The Regional Investment Framework 2022 (RIF 2022) was endorsed at the 22nd Ministerial Conference in Ha Noi, Viet Nam on 20 September 2017. It was adopted during the 6th GMS Summit of Leaders on 31 March 2018 in Ha Noi. The GMS leaders directed officials of the GMS Program to ensure that the Regional Investment Framework is monitored and updated regularly.
The RIF 2022: First Progress Report and Update (2018) was endorsed by the GMS Senior Officials' Meeting in December 2018 and received ad referendum approval by the GMS Ministers in April 2019. It represents updates to the RIF 2022 during the 2018 cycle (from February to November 2018). It revises the medium-term pipeline of projects to a new total of 247 investment and technical assistance projects, requiring $80.9 billion in estimated financing.