Technical Meeting on GMS Cross-Border Agriculture Trade and Contract Farming
Conference Proceedings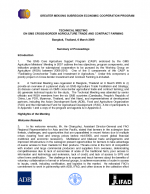 A Technical Meeting on the Greater Mekong Subregion Cross-Border Agriculture Trade and Contract Farming was held in Bangkok, Thailand in 6 March 2009. It was organized to achieve the following objectives:
provide an overview of a planned study on GMS Agriculture Trade Facilitation and Strategy;
discuss current issues on GMS cross-border agricultural trade and contract farming; and
generate technical inputs for the study.
The meeting was attended by senior officials and Working Group on Agriculture members from the six GMS countries (Cambodia, People's Republic of China, Lao PDR, Myanmar, Thailand, and Viet Nam), and representatives of development partners, including the Asian Development Bank, Food and Agriculture Organization, and the International Fund for Agricultural Development.
A list of participants is in Appendix 1 and a copy of the program and agenda is in Appendix 2.
Last Updated:

Sunday

,

1

March

2009